Thigh Liposuction Performed by Dr. Alissa M. Shulman in Sarasota, FL, Can Firm and Streamline the Upper Legs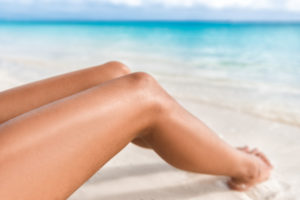 Thigh liposuction is a cosmetic surgery procedure designed to reduce small pockets of excess fat that have settled in the inner and outer thighs. The female body is genetically predisposed to store fat in these areas, and the natural hormonal shifts that occur during pregnancy and menopause can intensify this effect. If you are interested in addressing a pear-shaped or bottom-heavy silhouette with thigh liposuction, you are encouraged to speak with a board-certified plastic surgeon like Dr. Alissa M. Shulman of Sovereign Plastic Surgery in Sarasota, Florida. A highly experienced surgeon who has been performing lipo and other cosmetic plastic surgery procedures since 2009, Dr. Shulman can help you determine if lipo is right for you.
Before recommending thigh liposuction, Dr. Shulman will encourage you to candidly discuss your goals and concerns. Because exercise is the best way to tone the leg muscles and enhance the appearance of the body, she typically advises her patients in Sarasota, FL, to try some targeted exercises before considering surgery.
However, fatty deposits that collect on the thighs can sometimes be highly resistant to the effects of even the most intense workout programs. The inner thighs may begin to rub uncomfortably together, resulting in irritation and rashes. "Saddlebags" can form on the outer thighs, making it difficult to find well-fitting clothing – even for an individual who is otherwise very fit. For issues like these, thigh liposuction may be an appropriate solution.
When considering any type of lipo, including thigh liposuction, it's important to keep in mind that this type of cosmetic plastic surgery:
Is best suited for people who maintain a healthy, stable body weight and are interested in targeting a small amount of fatty tissue that is located in an isolated area
Requires a certain amount of skin elasticity in the treatment area; in general, the firmer and more supple the skin, the better the result
Cannot address cellulite, dimpling, or excess skin
Can result in temporary, localized bruising and swelling, which will gradually subside to reveal the final outcome
Even though thigh liposuction can permanently remove fat cells, a patient must remain committed to maintaining a healthy lifestyle in order to sustain the results. Otherwise, the body will simply deposit excess fat in other areas, creating a disproportionate appearance.
If you would like to discuss thigh liposuction with Dr. Shulman, contact Sovereign Plastic Surgery to request a personal consultation at our office in Sarasota, FL.