Cosmetic Surgery Performed by a Board-Certified Plastic Surgeon in Sarasota, FL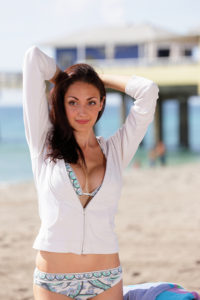 To explore your cosmetic surgery options in Sarasota, FL, come to Sovereign Plastic Surgery. Our founder, board-certified plastic surgeon Dr. Alissa M. Shulman, offers a variety of surgical and nonsurgical cosmetic surgery procedures designed to enhance various areas of the body from the neck down. You'll find our welcoming office located right next to Sarasota Memorial Hospital, where Dr. Shulman served as the first female Chief of Surgery (2015-2016) and is currently Section Chief of Plastic Surgery. She is also the recipient of the Sarasota Memorial Hospital "2016 Physician of the Year" designation.
In the Sarasota, Florida, area and beyond, Dr. Shulman is well respected and highly sought after for her exceptional surgical skills. In addition to her outstanding credentials and extensive experience, her lifelong interest in art and sculpture has help her to develop a unique appreciation for the natural beauty of the human form. Whether you are seeking a subtle change or dramatic transformation in your appearance, Dr. Shulman can help you determine if cosmetic surgery is right for you.
Dr. Shulman firmly believes that true beauty comes in all shapes and sizes. Her goal is to help her patients emphasize the physical attributes they are pleased with and enhance the specific features they would like to change with cosmetic surgery. To do so, she may recommend one or more of the following procedures:
Liposuction
Abdominoplasty
Breast lift
Breast augmentation
Breast reduction
Arm lift
Thigh lift
Of course, cosmetic procedures are always considered to be elective, and a decision to proceed must be made carefully. Dr. Shulman can provide all of the information you need to make a well-educated choice. When performed for the right reasons, cosmetic surgery can enhance both your appearance and your sense of well-being. But, it cannot be expected to change your life or transform you into someone you are not. Also, to ensure the best possible outcome, it is essential that you are generally healthy and do not smoke.
If you'd like to discuss cosmetic surgery with Dr. Shulman, contact Sovereign Plastic Surgery to schedule an appointment at our office in Sarasota, FL.