Cosmetic Breast Surgery Performed by Board-Certified Plastic Surgeon in Sarasota, FL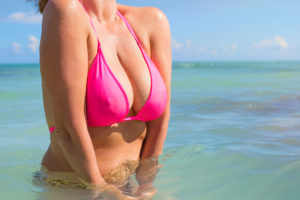 Elective breast surgery is a big step. If you're considering this type of cosmetic procedure, you'll want to work with a surgeon with whom you feel completely comfortable. But, where should you begin? If you're in the Sarasota, Florida, area, and you've been exploring breast surgery, you may have heard the name Dr. Alissa M. Shulman. A board-certified plastic surgeon who practices at Sovereign Plastic Surgery, Dr. Shulman has the unique advantage of being both an experienced surgeon and a gifted sculptor. Through her lifetime love of art, she has acquired an in-depth appreciation of the beauty of the human form that directly influences her surgical technique.
Dr. Shulman encourages candid communications with her patients at all times. She won't hesitate to tell you what she thinks, and she'll inspire you to do the same. In fact, she believes that honest communication is one of the most important steps toward achieving the best possible aesthetic result from breast surgery. You can begin the process with a personal consultation at her comfortable office located next to Sarasota Memorial Hospital in Sarasota, FL.
If breast surgery is right for you, it can help you achieve both physical and emotional benefits. However, before making your final decision on whether to proceed, it is essential for you to also consider the potential risks. Dr. Shulman can provide individualized guidance as she fully explains these and other factors:
Breast implants are not lifetime devices. Over time, you will likely need additional breast surgery to address complications or undesired cosmetic effects as the implants "wear out."
If you later choose to have your implants removed and not replaced, you may experience some irreversible cosmetic changes in your breasts, such as dimpling, puckering, and wrinkling.
Breast implants may affect your ability to breastfeed by inhibiting your production of milk.
All types of breast implants can potentially rupture, and gel-filled implants usually rupture "silently" (without symptoms). Therefore, if you choose gel implants, you'll need to commit to having them monitored with MRI screenings.
With all of this in mind, Dr. Shulman can help you choose a suitable implant type, size, shape, and profile. In addition, she can recommend the most appropriate breast surgery technique and incision placement for you.
If you'd like to meet with Dr. Shulman to talk about breast surgery, contact Sovereign Plastic Surgery to schedule an appointment at her office in Sarasota, FL.