Fat Transfer Breast Augmentation — An Option for Women in Sarasota, FL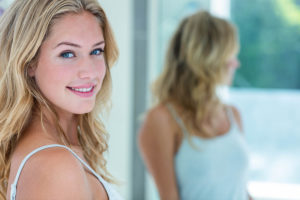 Fat transfer breast augmentation can be a viable alternative to the placement of breast implants for certain women who are seeking a relatively small increase in breast size. At Sovereign Plastic Surgery in Sarasota, FL, Dr. Alissa M. Shulman uses various breast enhancement techniques when performing plastic surgery procedures designed to help her patients achieve their aesthetic goals.
To augment a patient's breasts without the use of implants, Dr. Shulman first performs liposuction to harvest fat cells from another area of the patient's body. An appropriate harvest site is an area that has excess fatty tissue, such as the:
After processing the harvested fat, Dr. Shulman then transfers it to the patient's breasts to add a modest amount of volume (up to one cup size).
In general, a good candidate for a fat transfer is a nonsmoker who is slightly overweight and has maintained a stable body weight for at least 12 months. Dr. Shulman does not recommend gaining weight — even a very slight amount — to prepare for a fat transfer procedure. That's because transferred fat cells will continue to be affected by weight fluctuations, even after the healing process is complete. This, in turn, could alter the final surgical outcome.
Having performed breast reconstruction procedures for many post-mastectomy patients in Sarasota, Florida, over the years, Dr. Shulman has exceptional expertise in performing this technique. As a result, she has acquired highly refined fat transfer skills, which she utilizes when performing fat transfer breast augmentation procedures to help her patients achieve pleasing and natural-looking results.
While fat grafting can be an effective breast enhancement technique for certain women, it is not appropriate for all breast augmentation patients. If you would like to have fuller breasts, Dr. Shulman can provide personalized advice and guidance to help you select the most appropriate treatment approach for you.
If you'd like to explore fat transfer breast augmentation, you can meet with Dr. Shulman at Sovereign Plastic Surgery, her solo practice located adjacent to Sarasota Memorial Hospital in Sarasota, FL.