Body Contouring Surgery Performed by a Board-Certified Plastic Surgeon in Sarasota, FL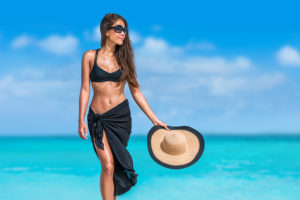 If your silhouette has changed due to weight loss or pregnancy, body contouring surgery can help you achieve your desired look, which may be eluding you despite your best efforts to eat healthy and stay fit. At Sovereign Plastic Surgery in Sarasota, FL, you can discuss your aesthetic concerns and surgical expectations with board-certified plastic surgeon Dr. Alissa M. Shulman, who can help you determine whether plastic surgery is the right choice for you.
Before you begin, though, it's important to understand that body contouring surgery is not a one-size-fits-all solution, nor is it a single, all-encompassing plastic surgery procedure. Instead, body contouring consists of a customized treatment plan that may include several separate surgical procedures designed to trim and reshape various areas of the body, such as the abdomen, buttocks, thighs, breasts, and upper arms. Also, because body contouring can address both excess fat and sagging skin, it is a more comprehensive solution than liposuction.
Based on your unique anatomy, aesthetic preferences, and surgical goals, Dr. Shulman can recommend the best type of body contouring surgery (or an alternative) for you. For instance, your treatment plan may include:
A tummy tuck (abdominoplasty)
A thigh lift
Breast augmentation
A breast lift
An arm lift
Liposuction
You can feel confident working with Dr. Shulman, who has the knowledge, training, and experience necessary to help you achieve the body shape you desire. Board-certified by The American Board of Plastic Surgery, she has spent the last several years practicing in Sarasota, FL. Additionally, as an accomplished artist, she has been drawing and sculpting the human form since she was old enough to hold a pencil. As a result, she has the requisite expertise to determine which plastic surgery procedures are best suited for you, and to perform those procedures with a high level of precision. With Dr. Shulman's help, you can achieve the more trim and shapely form that you're looking for.
If you'd like to discuss body contouring surgery with Dr. Shulman, contact Sovereign Plastic Surgery to schedule a personal consultation.