Arm Lift Surgery for Individuals in Sarasota, FL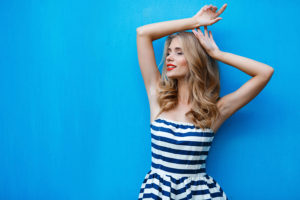 Arm lift surgery, or brachioplasty, is designed to address hanging skin in the underarm area and reshape the upper arm. By tightening lax skin and removing excess fatty tissue, an arm lift can create a more toned and contoured appearance. In Sarasota, FL, board-certified plastic surgeon Dr. Alissa M. Shulman performs brachioplasty and other cosmetic plastic surgery procedures to help her patients achieve their aesthetic goals.
Due to the effects of weight loss, genetics, and the natural aging process, many people notice the dreaded "bat-wing effect," which consists of looseness and sagging in their upper arms that persists despite a targeted exercise regimen. That's because exercise can tone and firm muscles, but it cannot tighten skin. If you have these aesthetic concerns, Dr. Shulman can help you determine if an arm lift is right for you during a personal consultation at Sovereign Plastic Surgery, the practice she founded in Sarasota, Florida. In addition to performing a physical examination to assess the degree of skin laxity in your upper arms, she'll ask about your surgical expectations, general health condition, tobacco use, and medications (if any).
In general, a good candidate for arm lift surgery is an individual who:
Is concerned about significant skin laxity in the upper arm area
Has maintained a healthy, stable body weight for more than 12 months
Does not smoke or otherwise use tobacco products
Do not have any underlying medical conditions that could complicate surgery or compromise recovery
Has a positive outlook with realistic expectations
The extent of arm lift surgery can vary based on the location and extent of fatty tissue and sagging skin. For instance, to address a relatively mild trouble spot, Dr. Shulman may create a small incision in the armpit area, remove some fat and skin, and then lift the remaining skin to a higher position to tighten and enhance the contour of the upper arm. On the other hand, to address a larger amount of excess fat and skin, Dr. Shulman may work through an incision that spans the length of the upper arm (from the armpit to the elbow).
Regardless of the technique used for arm lift surgery, you will likely experience some swelling and bruising around your incision site afterward. As your body heals, the final outcome of your procedure will become more and more apparent. The improvements achieved can be expected to last as long as you commit to maintaining a stable body weight and healthy lifestyle.
To learn more about arm lift surgery, contact Sovereign Plastic Surgery in Sarasota, FL, to schedule an appointment with Dr. Shulman.