Breast Asymmetry Correction – Surgical Options Available in Sarasota, FL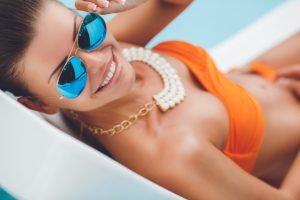 Breast asymmetry correction surgery can address problems caused by uneven breasts. While the majority of women have breasts that differ in size or shape to a certain extent, the difference is usually subtle or even imperceptible. However, you might consider surgery if you have trouble finding clothing that fits well or you are bothered by what you perceive to be an obvious disparity in the appearance of your breasts.
Since 2009, women in the Sarasota, Florida, area have been turning to Dr. Alissa M. Shulman, founder of Sovereign Plastic Surgery, for breast asymmetry correction surgery and other cosmetic procedures. Known equally for her outstanding medical credentials and exceptional creative talent, Dr. Shulman offers her patients a unique and multi-faceted advantage. As a board-certified plastic surgeon, she is highly perceptive of her patients' concerns. And, as a talented artist and sculptor, she has a unique appreciation for the natural beauty of the human form. Both are complemented by her female perspective.
Because women and their breasts can differ in many ways, breast asymmetry surgery must be custom-tailored to each patient's specific needs. For instance, while one woman may benefit from the placement of implants, a reduction procedure might be more appropriate for another. Dr. Shulman performs the following types of breast asymmetry correction procedures in Sarasota, FL:
Breast augmentation with implants
Fat grafting
Breast reduction
Breast lift
Nipple repositioning
As an individual who has always prided herself on being different, Dr. Shulman firmly believes that true beauty is not defined by "cookie cutter" sameness. Her objective as a surgeon is to help each patient feel good about herself based on the patient's own definition of beauty. To accomplish this, she'll encourage you to candidly discuss the reasons you're interested in surgery, as well as your expectations and desired outcome.
If you have questions about breast asymmetry correction, you can contact Sovereign Plastic Surgery to schedule a personal consultation with Dr. Shulman at her office, which is located next to Sarasota Memorial Hospital in Sarasota, FL.