Fat Graft Breast Augmentation for Women in Sarasota, FL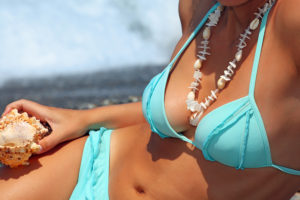 Fat graft breast augmentation may be appropriate for a woman who is interested in subtly enhancing the size of her breasts. Instead of placing implants to achieve this goal, a surgeon performs liposuction to harvest fat cells from another area of a patient's body that has excess fatty tissue, such as the buttocks or thighs, and then transfers the fat to the patient's breasts to add a modest amount of volume. At Sovereign Plastic Surgery, Dr. Alissa M. Shulman performs this and other types of breast augmentation procedures for women from Sarasota, FL.
While fat grafting can be a very effective breast enhancement technique for certain women, it is not right for every woman who is seeking an increase in breast size. To help ensure the best possible results, Dr. Shulman works closely with each prospective patient at her office in Sarasota, Florida, prior to recommending a specific treatment plan. As a skillful listener who focuses on the concerns and goals of her patients, she carefully considers all potentially effective options that are realistic for a patient – even if they involve lifestyle changes rather than surgery.
Some women might wonder if it is possible to be too thin for a fat graft breast augmentation. This is rarely the case. In fact, even a very petite woman would likely have a sufficient amount of fatty tissue in her lower body to provide the necessary fat for a transfer. Actually, Dr. Shulman discourages her patients from either gaining or losing weight – even just a few pounds – prior to a procedure. That's because fat cells do not replicate. In other words, each person is born with a certain amount of fat cells that grow larger with weight gain and smaller with weight loss. Because the total number of fat cells always remains the same, it is best to use fat cells that won't change in size due to weight fluctuations that occur after a transfer, which could affect the final result.
If you're interested in fat transfer breast augmentation, you are encouraged to meet with Dr. Shulman at Sovereign Plastic Surgery, her solo practice located next to Sarasota Memorial Hospital in Sarasota, FL. As a board-certified plastic surgeon and gifted sculptor, Dr. Shulman has been performing this and other types of plastic surgery since 2000, and she has acquired highly refined fat transfer skills by performing many complex breast reconstruction procedures for mastectomy patients.