Brazilian Butt Augmentation Performed by Dr. Alissa M. Shulman in Sarasota, FL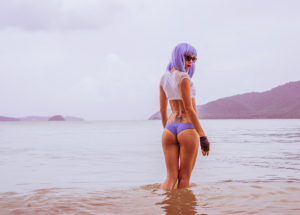 Brazilian butt augmentation is a fat transfer procedure designed to enhance the tone, contour, and volume of the gluteal region. This type of cosmetic plastic surgery is popular among individuals who would like to enhance a naturally flat or sagging backside, as well as those who have lost weight and skin elasticity in that area. To achieve the best possible surgical outcome, it's essential to work with an experienced plastic surgeon. Many people who are interested in buttocks augmentation turn to board-certified plastic surgeon Dr. Alissa M. Shulman of Sovereign Plastic Surgery in Sarasota, FL.
Like any other type of cosmetic plastic surgery, a Brazilian butt augmentation should be fully customized to a patient's unique anatomy and preferences. To help a patient achieve the look he or she has in mind, Dr. Shulman generally uses the following techniques:
The harvesting of unwanted fat from another area of the body, such as the hips or thighs
The precise placement of the harvested fat in the gluteal region
The suctioning away of excess fat from the areas immediately above and below the buttocks to add further contour
As Dr. Shulman's patient, you will directly benefit from her extensive experience. She was educated and trained at SUNY at Buffalo School of Medicine and Biomedical Sciences, the University of Texas School of Medicine at Houston, and the Medical College of Ohio. Later, she was named Section Chief of Plastic Surgery at Sarasota Memorial Hospital in Sarasota, Florida, where she performs Brazilian butt augmentation, breast reconstruction, and other fat transfer procedures. She also serves as the Secretary of the Florida Society of Plastic Surgeons. With nearly two decades of cosmetic surgery experience and a lifelong love of sketching and sculpting, she helps many people achieve their appearance-related goals.
If you'd like to learn more about Brazilian butt augmentation surgery, contact Sovereign Plastic Surgery in Sarasota, FL, where you can meet face-to-face with Dr. Shulman to discuss your surgical objectives and find out if the procedure is right for you.