Transferring Fat to the Buttocks —A Cosmetic Procedure Performed by Dr. Alissa M. Shulman of Sovereign Plastic Surgery in Sarasota, FL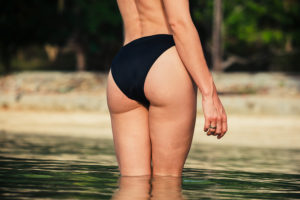 Fat grafting, or transferring fat to the buttocks, can accomplish two aesthetic goals. First and foremost, this procedure is designed to enhance the shape and fullness of the gluteal region using transferred fat. Secondly, it can improve the appearance of another "trouble spot" that serves as the donor site, such as the waist, hips, or thighs, from which a small amount of excess fatty tissue will be removed. In Sarasota, FL, board-certified plastic surgeon Dr. Alissa M. Shulman performs this and other types of cosmetic plastic surgery at Sarasota Memorial Hospital.
Transferring fat to the buttocks, a surgical procedure that is sometimes referred to as a Brazilian butt lift, does not involve the use of silicone implants. For this reason, there is no risk of rejection. Additionally, a more refined result — with a more natural look and feel — may be achieved. Dr. Shulman always begins with a personal consultation at her practice, Sovereign Plastic Surgery, which is located next to Sarasota Memorial Hospital in Sarasota, Florida. At that time, she reviews the patient's surgical goals, anatomy, and general health in depth before making any treatment recommendations.
If Dr. Shulman believes that a patient is a good candidate for a fat transfer and the patient elects to proceed, the surgery can be scheduled. In essence, the procedure will involve:
Liposuction — Dr. Shulman will harvest excess fatty tissue from another part of the patient's body. At the same time, she will reduce and contour the donor site. Because the patient's body will naturally absorb some of the injected fat, Dr. Shulman will usually harvest more fat cells than are necessary to achieve the preferred result.
Fat grafting — After processing the extracted fat, Dr. Shulman will transfer it to the patient's buttocks to create the desired shape.
Additional liposuction (optional) — If the patient elects, Dr. Shulman can perform further liposuction around the patient's hips, thighs, or waistline to further enhance the new contours of the buttocks.
Immediately afterward, the patient should expect some bruising, swelling, and discomfort in the buttocks and the donor area. To facilitate recovery, Dr. Shulman will provide detailed and personalized post-operative instructions. While every patient heals at a different pace, one important tip for achieving the best possible result from Brazilian butt lift surgery is to avoid sitting directly on the buttocks for several weeks. The reason is that sitting can reduce blood circulation to the area, which can endanger the survival of the transferred fat cells.
If you're interested in enhancing the appearance of your buttocks by transferring fat to the area, contact Sovereign Plastic Surgery to schedule an appointment with Dr. Shulman in Sarasota, FL.