How Does CoolSculpting® Work? Learn About This Nonsurgical Fat Reduction Treatment Performed by Dr. Alissa M. Shulman in Sarasota, FL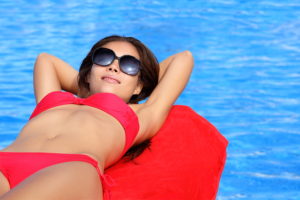 You may have heard the buzz about CoolSculpting® and wondered if it does really work, and if so, how. After all, a way to eliminate stubborn fat without surgery, anesthesia, or downtime probably sounds too good to be true. But, this FDA-approved body sculpting treatment can be very effective for certain individuals who would like to reduce small pockets of excess fat that are resistant to diet and exercise. Dr. Alissa M. Shulman, a board-certified plastic surgeon who performs CoolSculpting® and a variety of other cosmetic procedures at Sovereign Plastic Surgery in Sarasota, Florida, can provide all of the information you need to make the best possible treatment choice for you.
In essence, CoolSculpting® works like this:
Precisely controlled, cold temperatures are delivered to the skin in the treatment area.
While leaving the skin surface unaffected, this unique technology gently and effectively targets the underlying fat cells.
After becoming crystallized, the treated fat cells die, and then are naturally eliminated from the body.
Because the body has only a certain number of fat cells, those that die off are gone for good, so the results of CoolSculpting® are lasting.
There is no change in the fat cell distribution in untreated areas of the body.
Logically, your next question might be, "if CoolSculpting® does work, how does it feel?" During a treatment session performed at her office in Sarasota, Florida, Dr. Shulman will apply a gel pad and vacuum applicator to the targeted area of skin. As the vacuum draws tissue up into the applicator cup, a patient may feel some mild tugging and pinching sensations, as well as a cold feeling as the controlled cooling is delivered to the fat cells (this usually subsides quickly as the area becomes numb). Many patients are comfortable enough to read, surf the Internet, or even nap while being treated, and most return to their regular activities immediately afterward.
If you'd like to refine and tone a small area of your body, such as your hips, abdomen, inner thighs, or upper arms, you may want to consider CoolSculpting®. To learn more, contact Sovereign Plastic Surgery in Sarasota, FL, to schedule an appointment with Dr. Shulman. She'll be pleased to explain exactly how CoolSculpting® really does work.