Fat Transfer to Buttocks – Brazilian Butt Lift Surgery Performed by Dr. Alissa M. Shulman in Sarasota, FL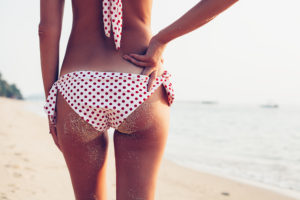 A fat transfer to the buttocks – also known as a Brazilian butt lift – is a cosmetic surgical procedure designed to enhance the shape and fullness of the backside without the use of silicone implants. Because a patient's own fat cells are used for the transfer, this approach can provide the additional benefit of improving the contour of a "problem area," such as the hips, thighs, or abdomen, which serves as the donor site. For this and other cosmetic procedures, many patients in the Sarasota, Florida, area entrust their surgeries – and bodies – to board-certified plastic surgeon Dr. Alissa M. Shulman of Sovereign Plastic Surgery.
When performing a fat transfer to the buttocks, Dr. Shulman uses liposuction to harvest excess fatty tissue from an isolated area of the patient's body, then processes the extracted fat and transfers it to the patient's gluteal region to enhance the volume and shape of the buttocks. In the right candidate, this procedure can produce a natural-looking result without the risk of rejection that typically goes along with the placement of silicone implants. However, cosmetic plastic surgery is always elective, and it is not appropriate for everyone.
To help each prospective patient make well-informed treatment decisions, Dr. Shulman reviews the specifics, assesses the patient's physical characteristics, and answers questions during a personal session at her office in Sarasota, FL. In general, a good candidate for a fat transfer to the buttocks will have:
Maintained a healthy, stable body weight for at least twelve months
Isolated pockets of excess fat in areas that can be treated with liposuction
Sufficient fatty tissue for a successful fat transfer (due to the fact that the body will naturally absorb some of the injected fat, Dr. Shulman will usually harvest more fat cells than are necessary to achieve the desired result)
Good skin elasticity, which will ensure that the skin will properly tighten during recovery
A positive outlook and realistic expectations
Because any weight loss (or gain) that occurs after recovery can affect the final result of a fat transfer, Dr. Shulman generally discourages her patients from gaining weight in preparation for a Brazilian butt lift with the intention of losing it afterward. This could necessitate an additional procedure to restore the initial surgical result.
As with most cosmetic plastic surgery procedures, a fat transfer to the buttocks is best suited for a patient who is looking for a subtle enhancement rather than a dramatic change. If you'd like to discuss buttock augmentation with Dr. Shulman, contact Sovereign Plastic Surgery to schedule an appointment at her office in Sarasota, FL. She can tell you if this type of surgery is appropriate for you and, if so, recommend the best approach based your unique physical characteristics and aesthetic preferences.